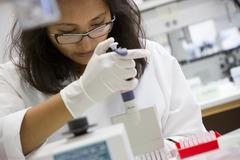 One of the goals of the Carver Lab is to make the process of ordering genetic tests, and keeping track of the status of these tests, as streamlined as possible for all concerned. A multi-stage, two-year project resulted in the development of a new system for communicating your request to the Carver Lab. This online requisition (required to order a genetic test) was designed as a tool to enhance your overall experience.
Avoid delays! Any samples received without this required paperwork will not be processed until proper documentation is received. Please note that the Carver Lab does not perform genetic prenatal testing or testing of asymptomatic minors.
Questions?
We maintain a list of the most frequently asked questions about ordering a test.
Carrier Screening
Carrier testing is not available for individuals without a positive family history. If an individual has a positive family history, a sample from the affected individual is necessary for our fist tier of testing. Once a disease-causing variation is detected in the affected individual, carrier testing (no unaffected minors) is available for a fee. Please contact us for additional information.
Retrieved Mon, 2023-12-04 09:52
Last modified Wed, 02/04/2009 - 16:16

www.carverlab.org/request